Fire Safety Codes

Product Code: 5590L19
Price: $177.95
Loose Leaf
Available Now
Based the national guidelines, the CA codes observes safeguards for property and human life from fire hazards!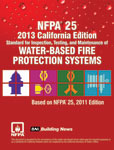 By NFPA and the California Office of the State Fire Marshal
Product Code: 9781557018267
Price: $99.95
Softcover
This special California Edition includes the full text of the 2011 Edition of the NFPA 25, upon which it is based, with all California changes and additions clearly highlighted and inserted into the text.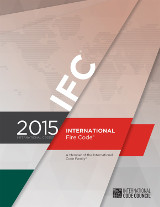 Product Code: 3400S15
Price: $133.95
Softcover
The IFC contains regulations to safeguard life and property from fires and explosion hazards.

New edition!
Product Code: 9781557019424
Price: $248.95
Loose Leaf
Includes the entire text of the NFPA 1: Uniform Fire Code and the NFPA 101: Life Safety Code with all Florida changes, additions, deletions, and exceptions.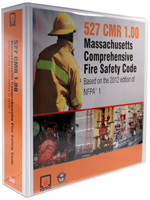 Best seller!
Product Code: 9781557018441
Price: $178.00
Loose Leaf
Stay in compliance with the latest Massachusetts Fire Code, based on the 2012 NFPA 1: Fire Code.
Effective January 1st, 2015

Now available!
Product Code: 5141L19
Price: $160.95
Loose Leaf
This is a fully integrated code based on the 2018 International Fire Code.